The Family Festival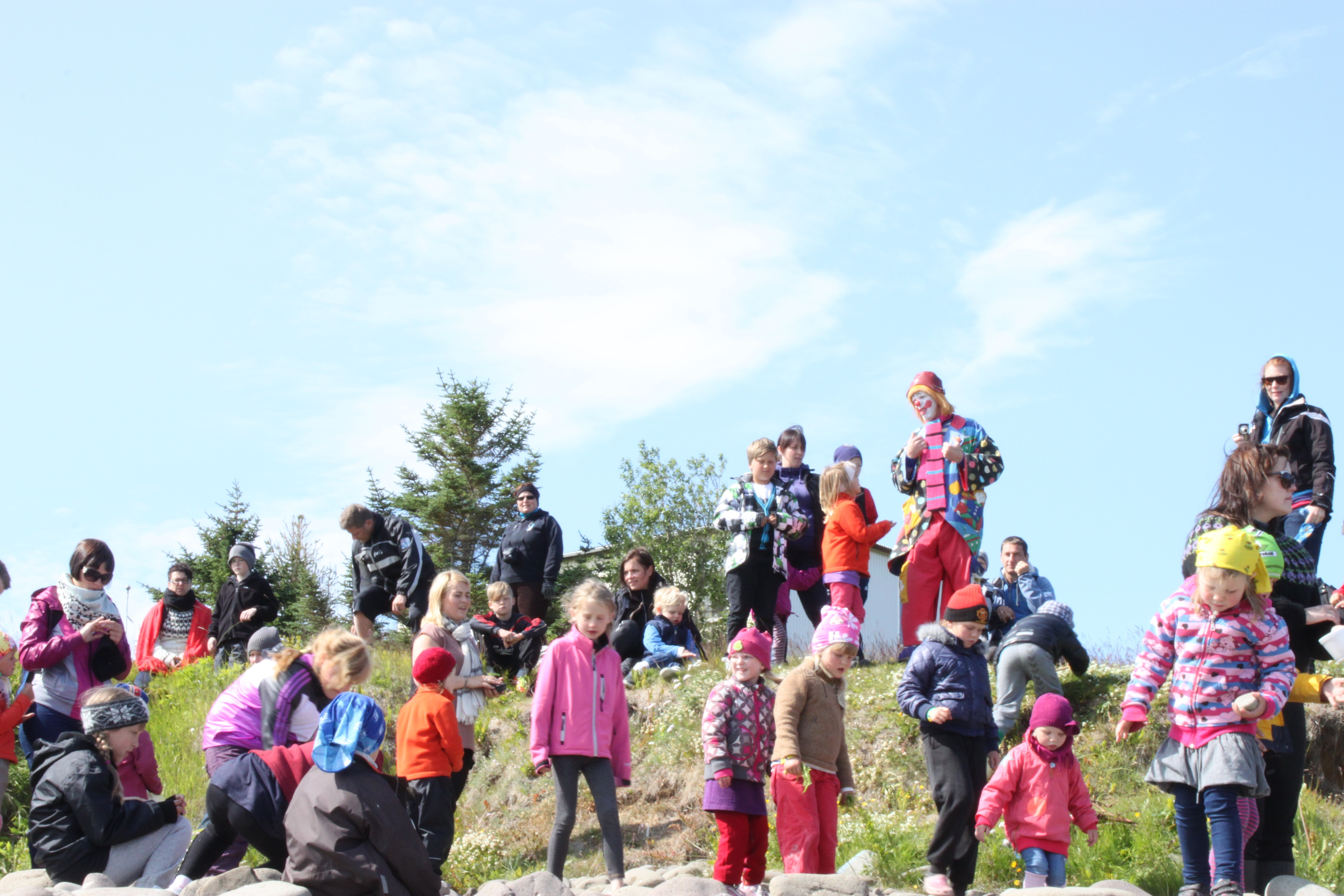 This festival takes place in the middle of July.

Summer 2023 July 6th - 8th

Hrísey Festival
A annual festival including family friendly events such as kid-disco, bonfire, live-music, art-shows and mystery tours.
The Hrísey Festival 2023 will take place 6th - 8th July
The annual Hrísey festival takes place in July each year and includes family friendly events such as kid-disco, bonfire, live-music, art-shows and mysteri tours.
The Program 2023

Thursday, July 6
Karaoke in Sæborg at 21.00
Friday, July 7
Coffee in private gardens 15.00 - 18.00: Lucky, Kelahús, Jörundarhús and Júlíusarhús
Clockstring exhibition and Sultusjoppan (jam-selling) Miðbraut 11, open 15.00 - 18.00
Children's adventure tour at 18.00 hosted by the local youth club Narfi
Adventure tour 13 -17 years old at 18.00 hosted by the local youth club Narfi
Adventure tour 18 years and older at 21:30. Price: 5.000 ISK.
Saturday, July 8
Program starts at 13:00
Rhubarb festival at the clockstring exhibition home, Miðbraut 11, open 13.00 - 16.00
Coffeé shop by the local wimens society 14.00 - 17.00
Playground and sprinkles at the festival grounds:
Benedict the leprechaun and Didi the human child come on a visit
Stúlli and Ásta Soffía Þorgeirsdóttir accordionist
Mysteritour at 16.30
Tractor group driving at 18.00

Campfire and songs at 21.00
- Kalli Örvars and various characters accompanying him along with his accompanist with Stulli.
Campfire with Kiddi Árna and Ómar Hlynsson singing
Our own Dj. Siggi Gunnar on the stages after the campfire.

Gallery Perla:
Friday: 12.30 -17.00 Saturday: 12.30 -17.00 Sunday: 12.30 -17.00

Store Hríseyjarbúðin:
Friday: 12.00 - 21.00 Saturday: 12.00 - 24.00 Sunday: 12.00 -17.00
Swimming pool: Friday: 10.30 - 19.00 Saturday: 10.30 - 17.00 Sunday:10.30 -17.00

Verbúðin 66:
Friday: from 13.00 Saturday: from 13.00 hours Sunday: from 13.00 - 20.00
Hrísey ferry Sævar:
From Hrísey From Árskógssandur
09.00 09.30
11.00 11.30
13.00 13.30
15.00 15.30
17.00 17.30
19.00 19.30
21.00 21.30
23.00 23.30
Games, music, campfire and dancing – all in all adds to create a great family based festival and fun.
During this weekend the islanders invite people to come and enjoy music, tractor rides, taste of the islands food among a great many other things. The festivities begin Friday afternoon with separate adventure tours for kids, teenangers and grown ups. The main festivities begin around noon on Saturday and go on into the night. There is music, orienteering, a playground, tractor rides, a trip to the beach with the world famous local clown and lots of other activity. In the evening the festival high point is held on the stage in the middle of the grounds which concludes with a bonfire where everybody joins in singing.
This festival is first and foremost a Family festival where everyone should find something to his or her liking. Scheduled ferry crossing are from the village Árskógs-sandur to Hrisey up to nine times a day and the trip takes about 15 minutes.